Discover here the best beaches in Gran Canaria. This 'miniature continent' as diverse as its landscapes, has endless beaches of all kinds!
Discover the best beaches in Gran Canaria, as diverse as the landscapes of an island with almost 60 kilometres of beach on 236 kilometres of coastline, all bathed in gentle sunshine that fills you with energy. This is a "miniature continent" where you'll find plenty of experiences that make every day special: golden beaches, stunning landscapes, and a big city full of fun things to do.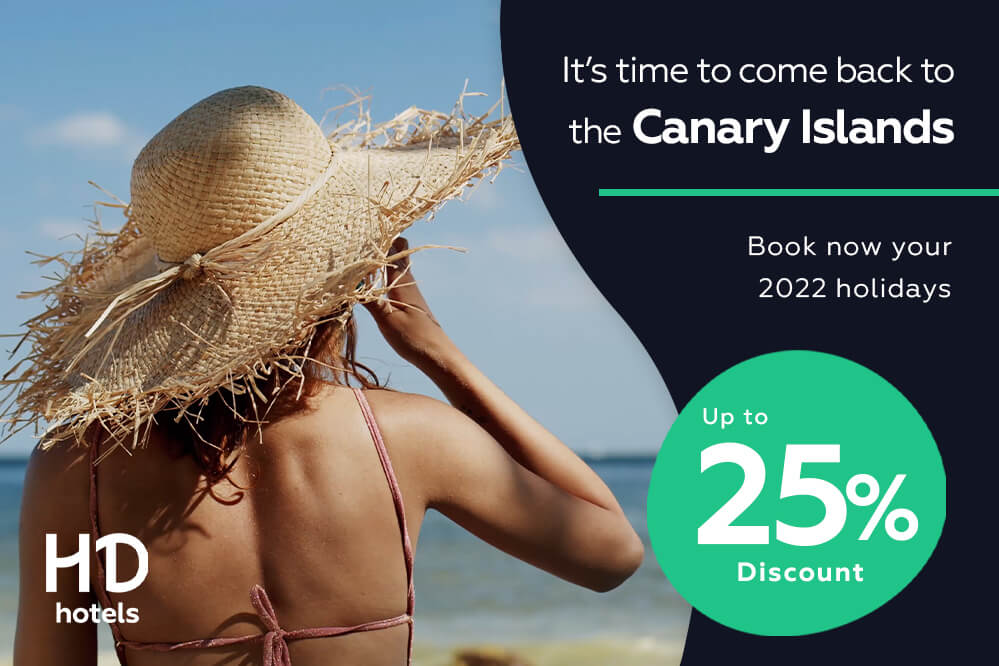 Gran Canaria has everything you could want for a dreamy family holiday in the sun, so it's no surprise that this Canary Island has long been a firm favourite with European tourists. After all, there are plenty of holiday packages and deals to be found, not to mention a plethora of activities to suit all ages.
In fact, it isn't just the famous black lava beaches that awaited us, as Gran Canaria also offers a lot of white sand beaches and giant dunes, making it an ideal place for families, those looking for peace and quiet and even party friends to spend their holidays.
Its beaches are unique not only thanks to the variety of different sands but also because of how they are managed: untouched beaches and hidden coves are plentiful, as are promenades with kiosks and restaurants. Whatever your desires, there is something for everyone here!
The beaches in Gran Canaria are the very first thing you fancy doing as soon as you step onto the island. The extraordinary climate, set in an eternal spring, and the long sunny days with temperatures ranging between 19º and 25º throughout the year invite you to put on your swimwear the moment you arrive. Luckily Gran Canaria is home to endeless beaches of all types and colours offering a wide range of possibilities.
Endless spits of white sand and turquoise waters to wander along, beautiful unspoiled bays where you can sunbathe, surrounded by natural landscapes, practical beaches for the family with all kinds of services and with teams of lifeguards so you can enjoy yourself completely at ease.
Beaches in the south of Gran Canaria are known for being large and sandy with the balmy weather conditions we've come to love from the Canary Islands. A number of the island's towns with abundant facilities are found in the south too.
In northern Gran Canaria, stronger winds make beaches particularly popular with surfers, but there are some untouched natural beaches ripe for exploration too. The east and west of the island are spots to find smaller beaches that are slightly further off-the-beaten-track, popular with locals.
Most beautiful beaches in Gran Canaria
Gran Canaria has dozens of beaches, from the Saharan splendour of Playa del Inglés to the tiny patch of sand at Güigüí. Some are packed with sun loungers and parasols, while others are hours away from the nearest Full English Breakfast. Whatever your taste, the island has the perfect beach for you.
Gran Canaria is rightly celebrated for the quality of its beaches. Serene settings of white sands, crystal blue waters and exotic trees. There are many untouched coves to enjoy. It presents a perfect beach holiday for both friends and families. Here's our guide to five of the best.
You just have to choose what best suits your plans and forget about everything else. Thus, whichever kind of beach holiday ticks your boxes, there's a beach in Gran Canaria waiting for you.
1. Güigüí - La Aldea de San Nicolás
If you're in Gran Canaria you can't miss a visit to this hidden tresaure where you can enjoy a swim in the normally tranquil Atlantic Ocean with views of the Teide volcano from the neighbouring island of Tenerife on the horizon, legendary Güigüí, located in the municipality of La Aldea de San Nicolás.
A one of the most famous and unspoilt beaches in Gran Canaria is not only known for its beach but for the journey needed to arrive: a three-hour hiking route via Tasartico across pristine countryside from the nearest road and is nudist. If trekking sounds like too much hard work you can take a boat trip from La Aldea, Mogán, Puerto Rico or Arguineguín.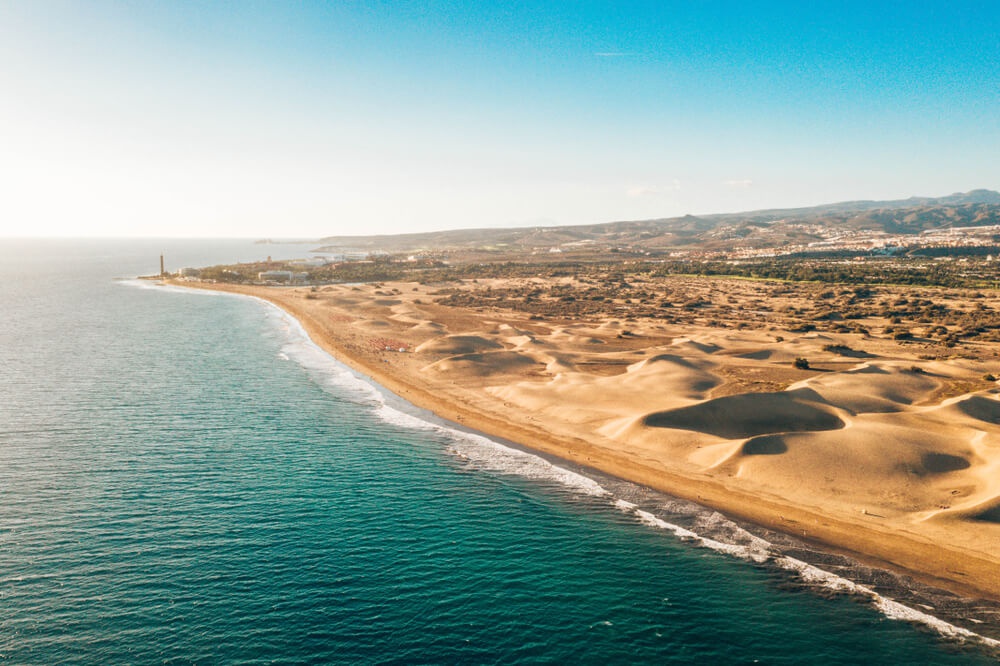 2. Las Canteras - Las Palmas de Gran Canaria
Las Canteras beach in northeast Gran Canaria, right in the capital city Las Palmas, is amongst Europe's most famous city beaches. It's appeal is due to its natural beauty, city-centre location and the services and amenities along its promenade.
At Las Canteras beach you get calm waters and warm weather all year round: its natural offshore lava reef (called La Barra) that goes parallel to the shore acts as a wavebreak and protects the sand and the exuberant marine life that make Las Canteras a top snorkeling spot.
Las Canteras beach extends from La Puntilla to the Alfredo Kraus Concert Hall, a three-kilometre walk where different areas, each with its own characteristics, can be enjoyed:
La Cícer, a surfers' paradise
Peña La Vieja, with a rocky area full of sea life
Playa Chica, the most familiar area
Playa Grande, the birthplace of tourism in the island
La Puntilla, local fishermen's spot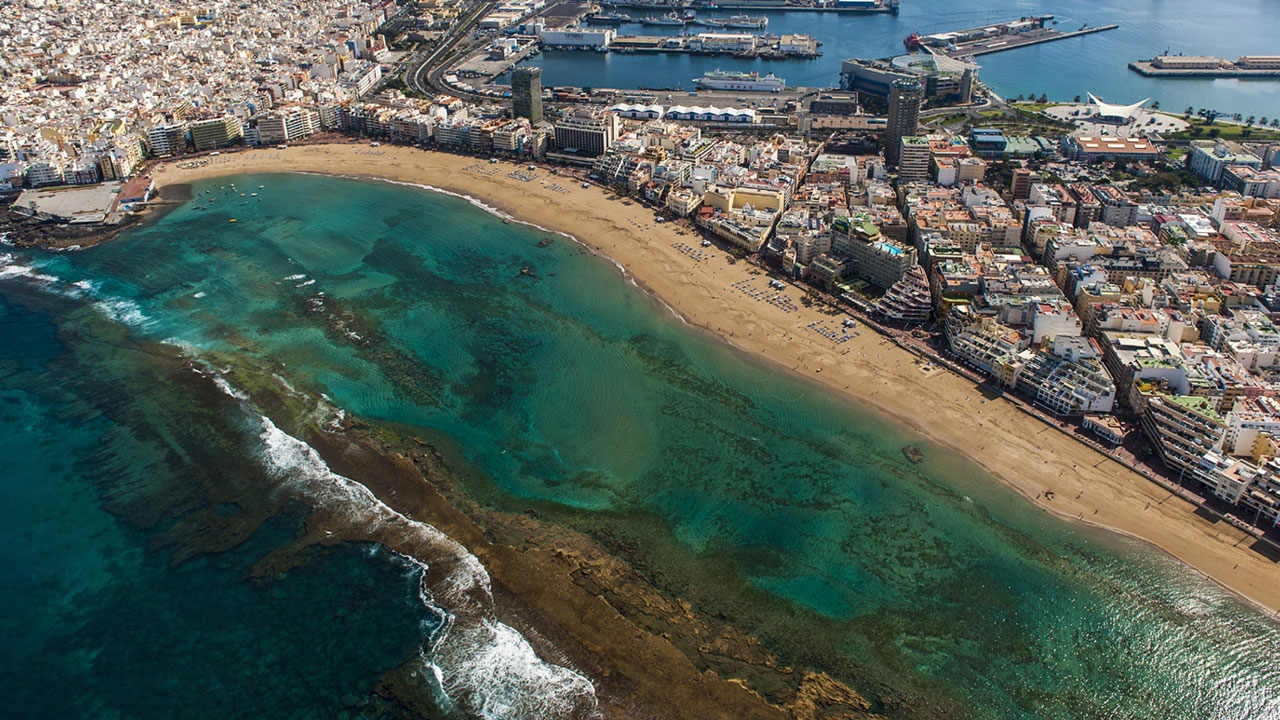 3. Amadores - Mogán
Amadores, located in the municipality of Mogán, is one of the best beaches in Gran Canaria and a tranquil man-made beach perfect for relaxing in the sunshine. The beach is sheltered by two dykes so its waters are always calm and its white sand full of sun loungers perfect for sunbathing.
You can float for hours in the calm waters here as there are no ball sports or watersports on the beach. Watching the sun set behind Teide volcano over in Tenerife is the perfect way to round off a day on Amadores beach.

4. Playa del Inglés - San Bartolomé de Tirajana
Playa del Inglés, located in the municipality of San Bartolomé de Tirajana, is one of Gran Canaria's most famous resort beaches. Located in southern Gran Canaria, its almost three kilometres of golden sand and calm waters are next to the Maspalomas Dunes Nature Reserve and close to a wide range of accommodation options.
Along the beach, that gos along all the way to Maspalomas lighthouse, you find service areas and places for sports such as volleyball and beach football. An ideal location to spend a family day on the beach.

5. Anfi del Mar - Mogán
Sheltered Anfi del Mar beach located in the municipality of Mogán in the south of Gran Canaria has fine, white sand and water so calm that it has barely a ripple. It's a great family beach as the kids can always search for seashells or play pirates by the tranquil water.
Anfi Beach boasts a full range of services from kayaks and pedalos to lounger and parasol rental, meaning that you can do whatever you want within earshot of the ocean. Right by the sand there's a shopping centre with plenty of cafés and a supermarket where you can buy food and drink to enjoy on the sand.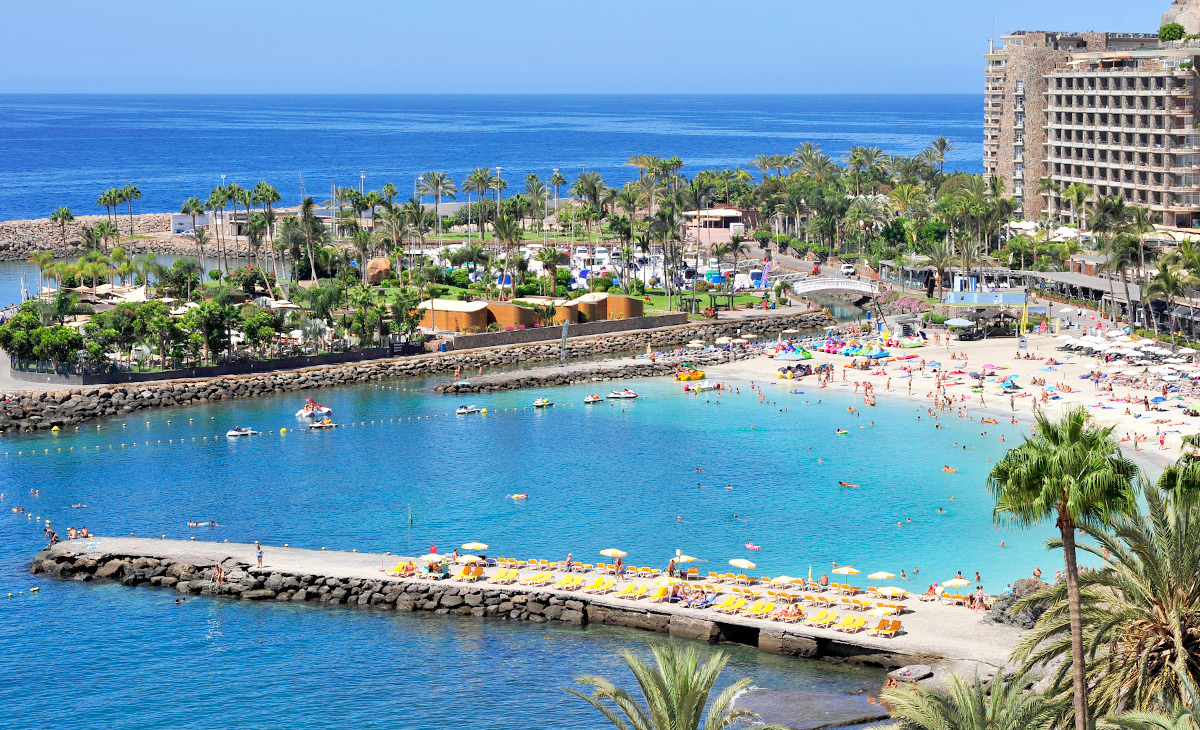 In conclusion, hust like the island's varied landscape, the beaches in Gran Canaria are also very varied, ranging from natural rocky beaches, beaches with dark volcanic sand, golden beaches, and picturesque white sand beaches. Don't miss the chance to visit them thanks to HD Hotels & Resorts!