Do you dare to go canyoning in the barrancos and ravines of the island?
Canyoning is one of the most popular (adventure or even extreme) sports on Gran Canaria. This is due to the fact that it's a volcanic island with numerous canyons and ravines. From HD Hotels, we invite you to discover the different descents in Gran Canaria and get ready to enjoy a real adventure!
What is canyoning?
Canyoning is an extreme sport that consists of descending a river or stream in a canyon in a combination of hiking, swimming, jumping, sliding, and rappelling. It's an adventurous and physically demanding activity where you make your way through the canyon's various obstacles, such as waterfalls, rapids, and narrow passages, while enjoying the scenic beauty of the environment. 
Since canyoning requires a good level of fitness, swimming ability, and technical knowledge of climbing and rappelling techniques, it's often done in groups with a guide who's experienced in navigating the canyon and ensuring the safety of the participants.
The best areas to go canyoning in Gran Canaria
The best areas for canyoning or coasteering in Gran Canaria are:
Mogán (in the south)

Agüimes

La Garita

Las Palmas de Gran Canaria

Agaete
Where to go canyoning on the island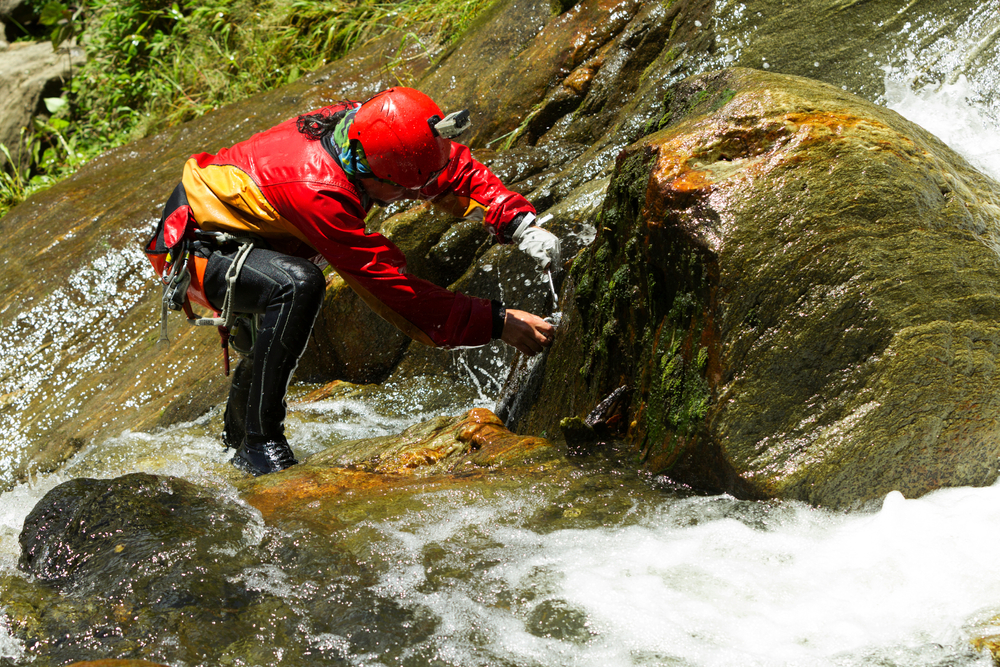 Feel the adrenaline and descend the most popular canyons of Gran Canaria such as the Barranco de los Cernícalos, del Negro, La Manta, del Perro, del Mulato, La Mina, el Caidero de las Niñas... Canyoning or coasteering is the best way to explore the canyons and barrancos of Gran Canaria. Here are the three most popular canyons on the island:
1. Barranco de la Manta
Barranco de la Manta is one of the most popular canyoning options on the island because it combines the good weather in the south of Gran Canaria with refreshing natural pools that you can jump into from all heights. It also offers slides and different types of abseiling. We recommend a visit from November to May, and it's perfect for beginners to canyoning.
It's also interesting because it's located near the tourist attraction Charcos Azules and the Natural Monument Azulejos de Veneguera.
Where is the Barranco de la Manta canyon?
2. Ravine of Los Cernícalos
The barranco de Los Cernícalos isn't only interesting for canyoning, but it's also one of the most popular hiking routes in Gran Canaria. It has running streams and waterfalls practically all year round, making it a popular place for nature lovers.
Known for its natural beauty, it's a very good option for those looking for an adventure in nature. On the other hand, it's easily accessible.
Where is the Barranco de los Cernícalos canyon?
It's located between Telde and Pico de las Nieves.
La Mina Ravine
Barranco La Mina is another popular canyoning and hiking destination in Gran Canaria. It has great biodiversity and impressive scenery, as well as a small water flow. It offers royal paths that pass through the municipality and areas corresponding to the Protected Landscape of Las Cumbres.
Where is the Barranco La Mina ravine located?
Located in San Mateo.
Where to stay to enjoy the nature of Gran Canaria
Gran Canaria's canyons and ravines offer a thrilling experience thanks to their waterfalls, crystal-clear natural pools and breathtaking landscapes. However, it's important to remember that canyoning is a dangerous sport, and we recommend that you go with expert guides and properly equipped.

If you dare to explore the cliffs and gorges of Gran Canaria and are looking for accommodation close to the main tourist attractions, we recommend staying at the HD Parque Cristóbal in Playa del Inglés, in the south of Gran Canaria. If, on the other hand, you prefer the city, we have the Acuario Lifestyle Hotel in Las Palmas, the island's capital. Both hotels offer a wide range of services and amenities such as restaurants, bars, spa, gym and swimming pools and are the perfect starting point for exploring the island of Gran Canaria.